JV Breaks Ground on 350-Unit Atlanta Luxury Development
The Arts District project joins the more than 26,000 units under construction in the metro at the end of the first quarter.
Better Financing Starts with More Options
$1.2M

offered by

a Bank

at

6.0%
$2M

offered by

an Agency

at

5.6%
$1M

offered by

a Credit Union

at

5.1%
Click Here to Get Quotes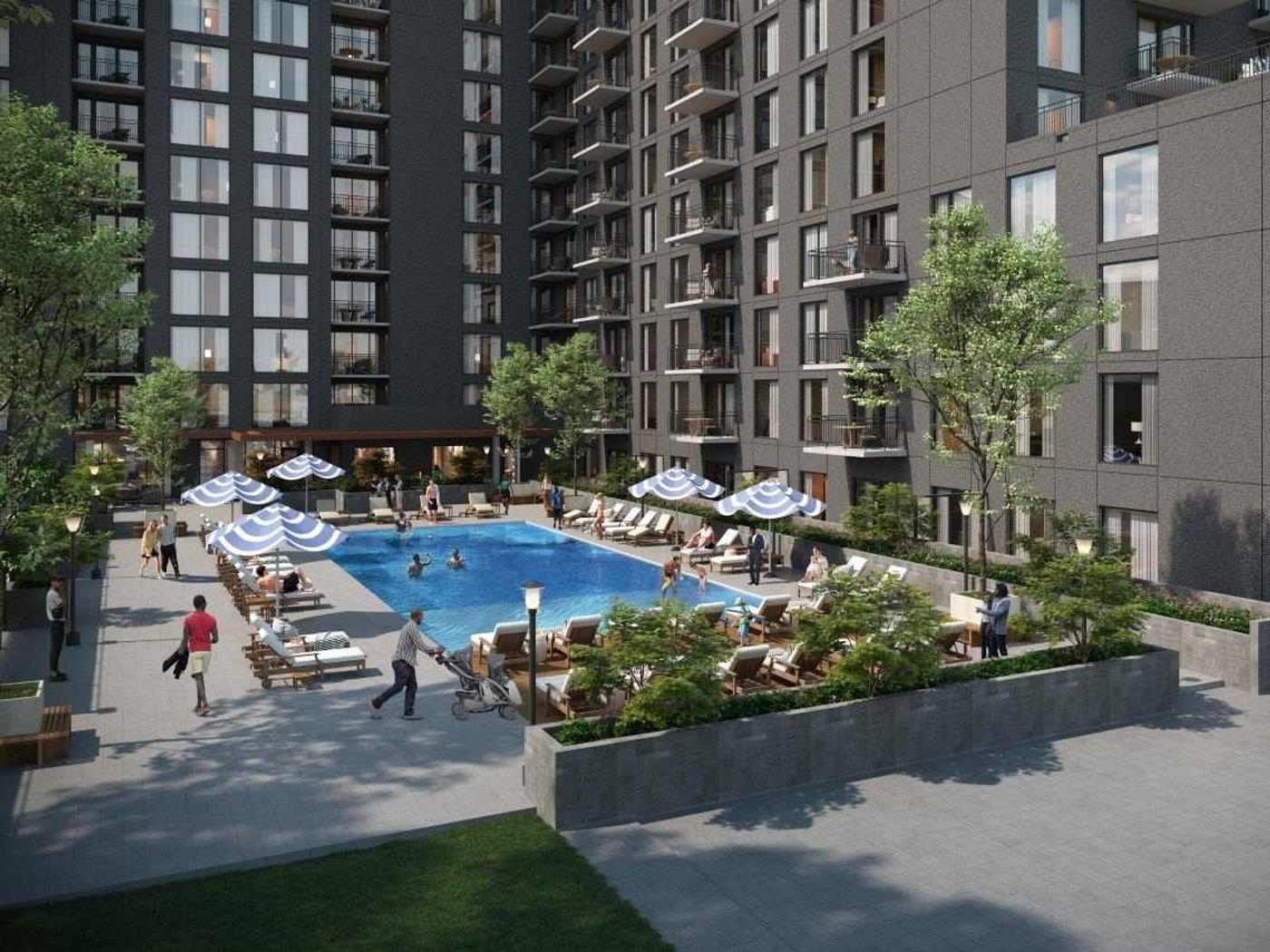 Image courtesy of Atlantic Residential, FIDES Development, Capital City Real Estate and Mitsui Fudosan America.
A joint venture between Atlantic Residential, FIDES Development, Capital City Real Estate, and Mitsui Fudosan America has started constructing a 350-unit luxury apartment project in Midtown Atlanta. JLL arranged joint venture equity financing through Mitsui Fudosan America. The first units are slated for completion in June 2024. 
Located at 1441 Peachtree St., the Arts District property will be within walking distance of the High Museum of Art, the Museum of Design Atlanta, and the Savannah College of Art and Design. The community will also be roughly a 10-minute walk away from the MARTA's Arts Center Station, connecting it to downtown Atlanta. 
The 28-story building will have studio, one-, two- and three-bedroom units with balconies or terraces. Designed by Niles Bolton Associates, the property will feature an internal sky bridge providing access to coworking spaces, a fitness center, wine bar and lounge, and a pool. 
Luxury Projects Drive Development in Atlanta
In 2021, multifamily deliveries in Atlanta reached an all-time high, with 14,185 units completed, accounting for 3% of existing stock and 30 basis points above the U.S. rate, a Yardi Matrix report noted. At the end of the first quarter, the metro had around 26,018 units under construction, with 77% of the projects targeting luxury renters. 
Most of the projects underway are in urban submarkets — Lawrenceville in northwest Atlanta and urban Midtown West/Centennial Place led construction activity, with a respective 2,506 and 2,407 units underway, the report indicated.
While heavy in-migration has increased the need for luxury developments, the metro is also in dire need of workforce housing, especially in the blue-collar south-side submarkets, according to a report from Matthews. The lack of new supply and high demand for workforce housing has driven investor interest in the region, and projects are also picking up along the South Side BeltLine and in the Summerhill neighborhood, Matthews highlighted.
Related Questions
What are the benefits of joint venture financing for a luxury development?

Joint venture financing can be a great option for luxury development projects, as it allows for the combination of capital and expertise. The capital member provides the money, while the operating member provides the commercial real estate expertise. This structure can provide a number of benefits, such as:

Acquiring LP-GP partners
Fresh equity for acquisitions (no need for external equity partners)
Cash injection for apartment development
Replacing existing senior debt or (bridge/mezzanine)

In addition, Israeli corporate bonds can provide a competitive financing alternative for U.S. multifamily developers. These bonds offer low fixed interest rates between 3.5% and 7%, and are given a favorable credit rating by local affiliates of Standard & Poor and Moody's (Midroog).

What are the risks associated with joint venture financing for a luxury development?

Joint venture financing for a luxury development can be risky if proper planning is not done. Without proper planning, a joint venture can easily be a sand-trap, in which one (or both) parties can lose valuable investment capital and even expose themselves to serious liability. To try to ensure that your joint venture partnership goes off without a hitch, you may want to consider following some of the best practices listed below:

Be careful when selecting a partner. Choosing the wrong partner can sink a joint venture, while choosing the right one can help it skyrocket to success. It's essential to make sure that both partners are on the same page involving ethical business practices, risk tolerance, timeliness, and other important factors. Of course, you'll also need to make sure that a potential partner (or firm) has the operational experience, manpower, and capital to get the job done.
Delegate responsibilities carefully. While it's important to have a detailed joint venture agreement, it's still important to have a frank discussion with potential partners about who will do what and when. That way, there will be significantly fewer misunderstandings if you actually end up working together.
Take caution regarding conflicts of interest. It isn't uncommon for members of a joint venture to own, be a part of, or have affiliations with pertinent entities such as property management firms or general contractors. In many cases, they may push for these entities to do a significant amount of work involving the venture's assets. From an investment standpoint, this may sound as a great opportunity to save on costs, but in some cases, what may benefit these affiliated companies may not be best for the performance of the investment. It is usually best to keep affiliated companies out of JV dealings to prevent potential conflict between members born from issues involving these affiliated entities.

What are the most important considerations when selecting a joint venture partner for a luxury development?

When selecting a joint venture partner for a luxury development, it is important to consider the partner's operational experience, manpower, and/or capital to get the job done. It is also important to make sure that members of the partnership are aligned regarding ethical business practices, risk tolerance, timeliness, and other key factors. Additionally, the joint venture agreement should clearly state the plans and goals of the joint venture, how much each party will contribute to the venture, profit splits/management responsibilities, long-term ownership rights, exit strategies, and contingencies and how various emergencies will be handled.

For more information, please see the following sources:

What are the advantages of using a joint venture for a luxury development?

Joint ventures can be a great way to finance a luxury development, as they allow for the combination of capital and expertise. The capital member can provide the necessary funds for the project, while the operating member can bring their experience and knowledge to the table. This can help to reduce the risk of the project, as the operating member can help to ensure that the project is completed on time and on budget. Additionally, the structure of the joint venture can be tailored to the individual needs of the project, allowing for greater flexibility and control.

For instance, an LLC structure can put the operating member and the capital member on relatively equal footing, while a limited partnership or LP (with the capital member being a limited partner) significantly reduces the capital partner's control over the venture, though they would carry very little liability were the project to fail.

Overall, joint ventures can be a great way to finance a luxury development, as they allow for the combination of capital and expertise, while also providing flexibility and control.

What are the best strategies for structuring a joint venture for a luxury development?

The best strategies for structuring a joint venture for a luxury development depend on the goals of the venture. Generally, it is important to choose the right partner, take caution regarding conflicts of interest, and ensure that the venture has the necessary capital and operational experience to get the job done.

When choosing a partner, it is important to make sure that members of the partnership are aligned regarding ethical business practices, risk tolerance, timeliness, and other key factors. It is also important to vet potential partners for having the operational experience, manpower, and/or capital to get the job done.

It is also important to take caution regarding conflicts of interest. It isn't uncommon for members of a joint venture to own, be a part of, or have affiliations with pertinent entities such as property management firms or general contractors. In many cases, they may push for these entities to do a significant amount of work involving the venture's assets. From an investment standpoint, this may sound as a great opportunity to save on costs, but in some cases, what may benefit these affiliated companies may not be best for the performance of the investment. It is usually best to keep affiliated companies out of JV dealings to prevent potential conflict between members born from issues involving these affiliated entities.

Finally, it is important to ensure that the venture has the necessary capital and operational experience to get the job done. Depending on the size and scope of the project, it may be necessary to secure commercial real estate financing. Apartment.loans offers a variety of loan products, including bridge loans, construction loans, and permanent loans, to help finance luxury developments.

What are the most common mistakes to avoid when financing a luxury development through a joint venture?

When financing a luxury development through a joint venture, it is important to be aware of potential mistakes that could lead to costly consequences. The most common mistakes to avoid include:

Choosing the wrong partner. It is essential to make sure that both partners are on the same page involving ethical business practices, risk tolerance, timeliness, and other important factors. Additionally, it is important to make sure that a potential partner (or firm) has the operational experience, manpower, and capital to get the job done. (Source)
Delegating responsibilities incorrectly. It is important to have a frank discussion with potential partners about who will do what and when. That way, there will be significantly fewer misunderstandings if you actually end up working together. (Source)
Not being careful about conflicts of interest. It is usually best to keep affiliated companies out of JV dealings to prevent potential conflict between members born from issues involving these affiliated entities. (Source)