Every secured loan is either recourse or nonrecourse, and it is important to understand the nuances of each as you navigate your commercial real estate finance options. 
At its core, the difference between the two types is relatively straightforward: If a borrower defaults on a recourse loan, a lender can pursue the borrower's personal assets — even wages — if the collateral is insufficient to cover the outstanding debt. With a nonrecourse loan, the lender is limited to the collateral itself to recoup losses.
Typically, most bank, bridge and construction loans are recourse, while Fannie® Mae®, Freddie® Mac®, HUD/FHA multifamily and CMBS loans are generally nonrecourse — though exceptions are not rare.
Because of the difference in risk to borrowers and lenders, there are some key differences in loan terms and requirements. In brief: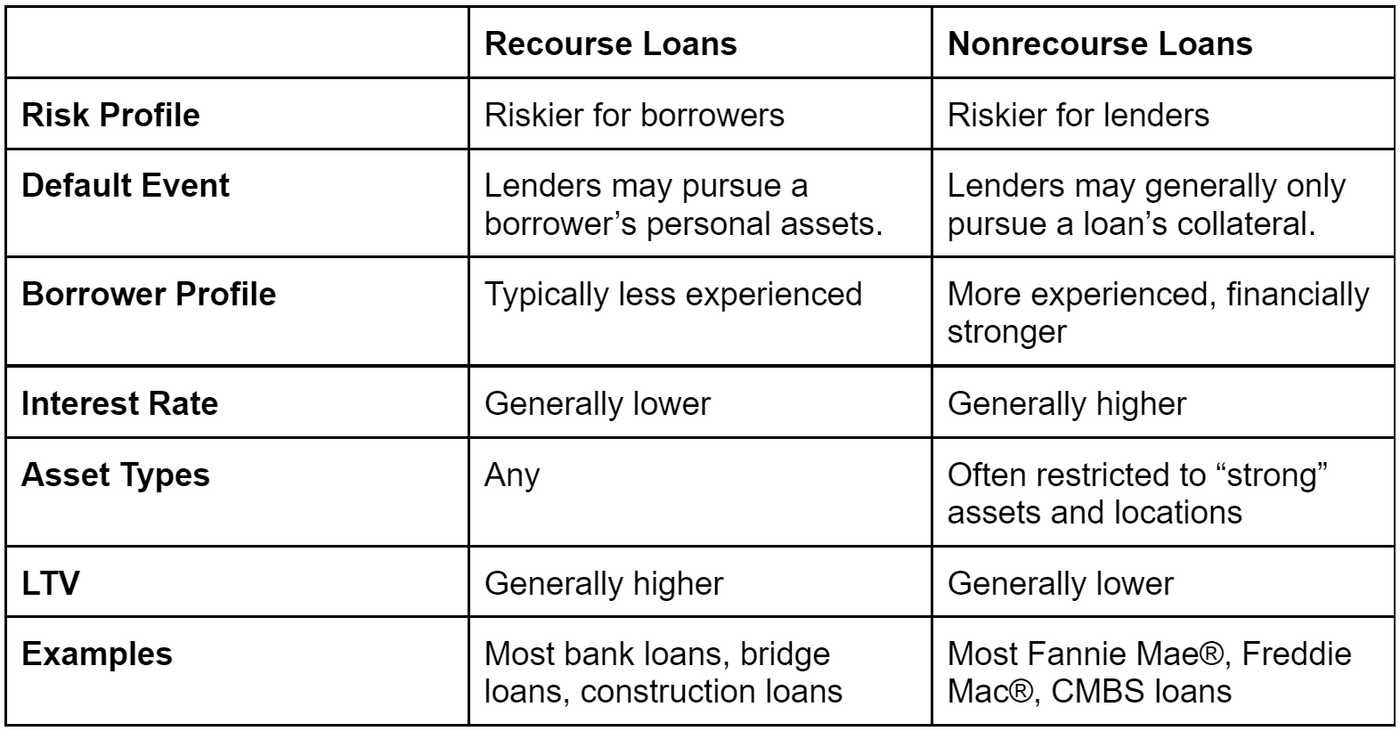 While borrowers broadly prefer nonrecourse financing, lenders favor recourse loans due to lower risks. Due to this imbalance, these types of loans tend to have rather different terms associated with them.
Nonrecourse Loans: Not for Everyone
Because of the higher risk to lenders, nonrecourse loans carry with them stricter terms. A Federal Reserve study from December 2021 estimates recourse loans have interest rates an average of 52 basis points lower than their nonrecourse counterparts. Similarly, LTV ratios tend to be 2.8% higher in recourse loans — enabling borrowers to increase leverage.
In a similar vein, the criteria used by lenders to qualify borrowers also may vary significantly. An experienced borrower with a proven investment strategy will typically be in a much better position for a nonrecourse loan compared to a first-time commercial property owner.
Different Loans for Different Assets
While recourse loans are widely used for most asset classes, nonrecourse lenders are typically far more selective, generally opting to finance stronger, lower-risk properties with one eye fixed on a market's overall strengths and outlook.
For example, the owner of a stabilized Class A multifamily property in Manhattan may have little trouble landing a nonrecourse loan, but a first-time investor seeking a hotel refinance in suburban Boise, Idaho, would likely have little choice but to look to recourse financing.
Nonrecourse Burn-Off
In some situations, a lender may originate recourse financing that may transition into a nonrecourse loan once certain conditions have been met. For example, let's say an investor takes a recourse loan to acquire and upgrade a dated multifamily asset. The lender may stipulate that the financing can become a nonrecourse loan once the property has stabilized at, say, an occupancy rate of 90% or higher for a three-month period following capital improvements. In most situations, the asset will also need to achieve a certain debt service coverage ratio, or DSCR, during that same timeframe: usually 1.20x or 1.25x.
This type of loan has what are known as burn-off provisions, as the recourse element of the financing effectively fades away when the property reaches the determined metrics. Commercial construction financing packages frequently include these provisions, due to a lack of property income prior to a building's completion.
Bad Boy Carve-Outs
Nonrecourse loans also generally have provisions to convert into recourse loans. Using what are known as bad boy carve-outs, lenders regularly include language into loan documents to allow for full recourse should the borrower engage in activities including fraud, misrepresentation of financial strength, intentionally declaring bankruptcy, or failing to keep necessary insurance policies in place.